G Suite (formerly Google Apps) for Work is a suite of web applications created by Google for businesses. Your G Suite account will give you access to Gmail on your preferred domain and 30GB of Google Drive storage per user. Through G Suite, you will also have access to a number of powerful Google applications: Calendar, Docs, Sheets, Slides, Forms, Sites, Hangouts, and Plus.
G Suite for Work gives you Professional Email, online storage, shared calendars, video meetings, and more. Google Apps makes collaboration simple and effective. You will have the ability to share spreadsheets and documents, create video conferences with Hangouts, and use instant messaging. You can also share calendars with others, making meetings easy to plan.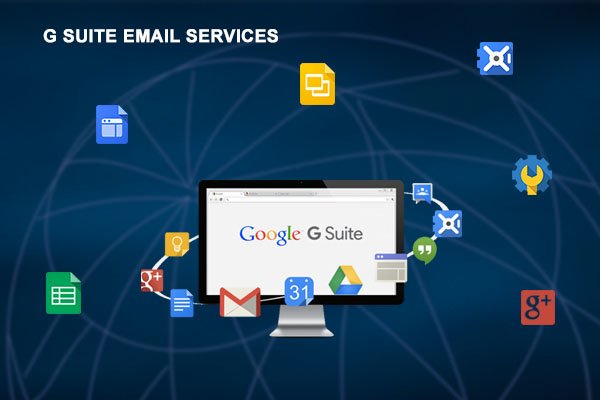 Ideally suited for small businesses, G Suite will provide you with many tools to help you succeed. One benefit is that G Suite includes some great mobile tools. All of the apps are available on mobile phones and tablets (iOS or Android), as well as Windows, Mac, or Linux computers.
Features:
Use your own business brand name for the email
High amount of storage, as high as 30GB for each of email, documents and photos
Synced devices with the help of IMAP
Highly reliable and secure
Transparency reports for authenticity and trust building
Gsuite Email Services:
G Suite Marketplace
Gmail
Google Drive.
Google Sites
Google Calendar
Google Hangouts
Google +
Google Vault
Google Keep
Jamboard
We Focused On:
Custom spam and inbound mail filtering tools, to complement powerful spam filters that automatically work with no up-front configuration.
Custom outbound mail filtering tools to prevent sensitive information from being distributed.
Custom information sharing rules to determine how broadly employees are allowed to share with Google Docs, Google Calendar and Google Sites.
Custom password length requirements and visual strength indicators to help employees pick secure passwords.
Enforced SSL connections with G Suite to ensure secure HTTPS access.
Optional email archiving, having unlimited retention option.
View More Expertise