Our Global Era Infotech Dedicated Team is a business model that refers to an agreement between the client and service provider, when the latter provides software development professionals to the client on a long term basis. These specialists are chosen according to the demands of the client for their experience and skill sets. The client may decide to manage the team from his or her side, or to assign the service provider's project manager to coordinate the communication process. The team usually works from the services provider office.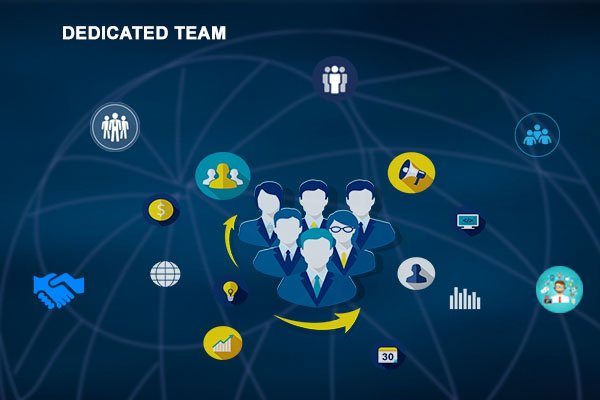 Dedicated team model has a very simple and transparent pricing system: there are monthly payments that depend on the team size. The payment is composed of members' salaries + service provider's fee, which includes administrative overheads.
Dedicated developers are best suitable when the scope of the project could not be strictly defined and requirements can be changed during the development process. The main purpose of this model is to hire a team that will compensate for the lack of necessary expertise and will seamlessly work as your own.
Features:
Predictable and defined budget
Full control over the management of the team
Dedicated team members have a deep understanding of the client's project and business goals
Continuous communication with the team through everyday communication with the use of web tools like Skype, Asana, Trello, and Basecamp
Stable and fully dedicated team to accomplish task of the particular client
Dedicatedteam Models:
Fixed Price Cost Model
Hybrid Model
Managed Services Model
Time & Material Model
Transaction Based Model
Proof of Concept Model
We Focused On:
Complete control over the selection, motivation and management of dedicated team members;
Day-to-day communication and management using web tools, e.g. Basecamphq, Asana, Skype;
Agile approach, fully predictable costs and budget control;
Workload and scope are not fixed and change requests can be made at any moment;
Loyal team of external staff with which client can establish the same working relationships and rules as with the main personnel;
When dedicated team members work for some time with a client, they have profound understanding of client's expectations and clearly see teend goal;
Team cohesion and stability;
Transmission of project knowledge and familiarity with the client's business domain.
View More Expertise